I'm late. I know. May has proven to be a month with many things. Good things. Great things. Bad things. Whatever, things. Some needed cheering, some needed pondering, and some needed battling. Maybe I'll write more about that later on. Maybe I won't. But the thing is, that due to all this, my April overview is late!

So let's get on with it! Are you looking forward to seeing the most appreciated post and best selling images of April? I am! (and yes, I know, I'll bring the May pictures overview faster to you 😉 ).

Top Instagram image of April 2019
I love a clear blue sky. Really, I do. When it's summer, and I'm enjoying the sun, on the beach or so.

But when I'm out hunting for photographs, I prefer some clouds in the sky. They add color. The add depth. They add drama. And I prefer the drama to be in my photo's. Not in my life. So on this day, we went for a walk to the woods on the other side of the road and the canal. Whenever possible, I try to go out for a walk a bit before sunset. That's just the photographer in me, trying to manipulate the rest of the world into my pictures. And when we go out for a walk, and we cross the bridge, we tend to check what the sunset looks like, because more often than not, it is well worth taking a few pictures of it.

No difference this day. We crossed the bridge, and saw this beautiful spectacular view. Out comes the iPhone x with Procamera, out comes the GoPro, and out comes the Fujifilm X-m1.

I haven't come around yet to select and work on all the Fujifilm images yet (busy, I know). I did check out the GoPro picture, but the squeeze of the extremely wide angle bothered me too much. For now. I will look into those pictures again later on. So my preference went out to the iPhone pictures.

It already kicked without postprocessing, so I decided not to do anything to it for once. So what you see is what I got.

Top 500px Image of April 2019
I mentioned it before on this blog, but I'm taking baby steps into shooting stock footage. I'm using different tools for that, such as our GoPro, our Fujifilm camera's, but of course also my iPhone.

On this particular evening, the sky of the setting sun looked promising, so I decided to try out some of the new gear I have, and have a go at some timelapses.

So out came my iPhone X again! Not hand held, not "put against a rock with my wallet underneath" or other hacks, but properly mounted on the Zhyung Smooth 4 gimball. Finally I had some more projects to work on with this nice piece of equipment! I had found out that Filmic Pro has real good timelapse capabilities, so I decided to use those. But first, once everything was in place for the filming, I took a photo of the scene with Procamera, in the HDR setting.

In postprocessing, I applied my typical settings, a bit extra on the saturation, and lighting up the shadows a bit. And the outcome was a very well appreciated, quite dramatic looking photo.

And the result of the timelapse? I'll share the one from after this picture below. If you want to see more, you can check out my Youtube Feed.

INSERT YOUTUBES
Top Eyeem Image of April 2019

The piers and lighthouses of the harbor of Fécamp, France, forming a gate to the open sea

This is one of the pictures that was taken during our Roadtrip to Normandy in March (haven't read it yet? You should! 😉 ). In the article I talked mostly about our trip towards Normandy, and about the moody misty saturday we spent on the coastline. But on Sunday, before driving back home, we stopped in Fécamp again, just to hear that pebble beach again.

That Sunday was a lot sunnier than the day before, so we did take advantage to grab some extra photo opportunities on our quick walk towards the pebbles on the beach. I took this specific picture on the pier of the entry of the harbor of Fécamp. I used my iPhone here (I have shot similar pictures with the GoPro and the Fujifilm). The image was taken using Procamera, and on the HDR setting, but not too much had to be done to it afterwards. The colors were already very saturated, and the blue is already as deep as I love it!

If you want to see some more pictures of our Normandy trip, check out the article. The photo's on there were all taken using the Fujifilm X-E1.

Top Stock Image of April 2019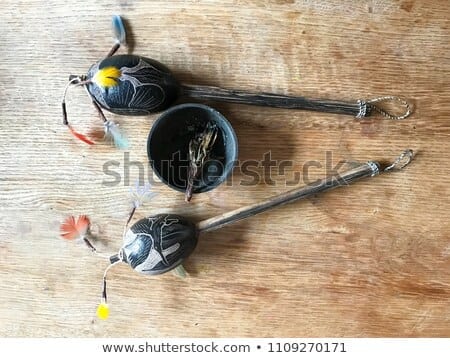 Nathalie and I got married 13 years ago. For better and for worse. Through good times, but also through many bad times. We celebrated our 10th wedding anniversary by the side of my mother's bed during her last few days. So for our 11th anniversary, we decided to do something different. Nothing big, nothing fancy, but something special. We had two very nice personalized leather wristbands made, and had ourselves handfasted by a Shaman. While he was preparing for the ceremony, he had put some of his tools on the table. While we were waiting. I just couldn't resist my photographic self, and I took my iPhone to take images of them. I tried a few different points of view, but the only one that I kept was this overhead view.

Not much of postprocessing was done, just the usual, a slight tad of upping on the saturation, and making sure the details came out just nice.

And it all has proven to work well, as this picture has been sold several times already, both on Shutterstock and iStock/Getty.



All pictures that you see here, are available for sale via stock agencies , or print via our Smugmug page. If you have special requests or considerations, feel free to contact me.

Are you considering to sell your photography work via stock agencies too? Use our referral links to subscribe, and support us that way! You can find them via the Stock Photography page.