February, even though it is my birthday month, I rarely think of it as one of my favorite months of the year. Not sure why, but I think it has to do with still being in a dip after the warm and light festivities of Christmas, or with the fact that it is still cold, and the days are often gray and dark, and still pretty short.
But not this year. This year, I noticed that even though they aren't up to par with the summer's days (of course), the days are elongating. And even though the house isn't filled with Christmas lights, we've lit a lot of different cosy lights in the house. Ranging from warm led lights to candles, making our house a warm and cosy home on those grey dark days. And even those grey rainy days of February weren't that bad. After all, we've been treated with a few days of excellent pre-spring weather. Some nice sun, and already pretty good temperatures. And unexpectedly, those rainy grey February days were just a necessity for spring to come. Nature needs these rainy days, as the buds on the trees and the plants need the water to prepare to jump out in a few weeks.
So February was well spent, preparing for spring, browsing through our old photo's on the cloudy days, see what we can use to submit to the stock agencies we work with, and getting out and shooting new work on the days when the weather was better.
Top Instagram pictures of February 2019
On one of those sunny days, we decided to take a walk to one of the clay pit in the neighborhood. Yes, we live in a rural area, with lots of farmfields, but luckily there are also a lot of forests, and in our specific area, there are clay pits. These are ponds that have formed due to clay being digged away, mostly for the old brick bakery that used to be in the village. As you can imagine, these ponds are all in nature reserves now, and are a pleasure to walk to. Nature, and bodies of water as a summum, have always attracted me, by their beauty, by their power, and by the peace of mind they provide.
And photographically, these ponds provide reflections. And reflections are most often a good thing!
On this particular trip, I brought the Fujifilm X-E1 to shoot some (a lot of) pictures. However, I haven't had the time yet to go through them all. And in the meantime I had already posted one of the results that I had taken with my iPhone 8 plus, and the trusted Procamera app.
Post processing wise, I just upped the saturation again, and lightened up some shadows using Lightroom CC on my iPhone. I love having part of the power of Lightroom on my mobile phone, and I love even more that it syncs on all my devices!
As for the appreciation of the picture, the number of likes on Instagram was about 10% more than on the runner up pictures. I suppose it is the combination of the subject and colors, but especially the leading lines, amongst which the branch plays a considerable part in the composition of the image. Combined with the reflection of the sky and the sun, this created a strong image.
Top 500px pictures of February 2019
The winning image on 500px is a boring one, in a way. As it is part of a series that I had taken one morning on my way to work, it is similar to the image that won a few months ago.
So the story is the same, on my way to the railway station, and I see the most wonderful sunrise I can imagine, over a nice and quiet landscape. A small country road, lined with bare trees, and wide open fields, giving a nice view on the rising sun. And there you are. Cursing you didn't bring the Fujifilm to the party, or you did bring it, but spent too much time drinking coffee, and now have no time left to take it out of the backpack, and still catch the train…
So the iPhone was used again. With Procamera, indeed. On the HDR setting.
Color saturation was upped a bit in post processing, but more importantly, the shadows received a bit of extra light, balancing out the picture a bit more.
And balance I believe is the key here, the sun rising on the right side, and the bare trees on the left side are balanced over the country road, creating a leading line from the side towards the horizontal middle of the image, while still honoring the rule of thirds.
Top EyeEm pictures of February 2019
This picture is one that stands a bit apart from the crowd. In several ways actually.
First of all, EyeEm is a bit of a mixture between a social medium for photography, and a stock agency (a bit like 500px, but they've "outsourced" their stock selling now). So I upload pictures to EyeEm that I don't upload onto my social media, in order not to overload them. So this is a picture that was only sent to stock agencies, not posted on any social media.
Second, in my list of top photos of the month, this is a bit of a stranger, since most of the pictures I post on social media (and which thus can get into these monthly best images posts) are photos taken with my iPhones. The reason for that? Speed and convenience. I mostly post on social media using my iPhone while I'm on the train, or waiting in line somewhere. So I use the pictures that I have handy, which means, those on my iPhone. When I'm working on the other pictures, from the different camera's, I'm mostly using my Macbook, which means I'm more in working mode, and then I try to stay away from all social media as much as possible.
So, this particular one was taken using my Fujifilm X-M1, with the XF35 f1.4 lens. I love the combination of these two, as it is barely much bulkier than my iPhone, so easy to walk around with (not yet 'in pocket', but still), and the quality is fabulous.
The occasion otherwise is more typical, on my way to the school of our daughter, walking by the side of the canal. I took a few pictures using my iPhone 8 Plus, but went back immediately when I had the chance, and brought the Fujifilm to take some more pictures that would lend themselves more for the bigger stock agencies. And hence, this picture came into existence.
For post processing I used Lightroom CC, but I didn't do much more than just up the contrast a bit, and add a little "vibrance" to the colors. No saturation added this time! Wasn't needed, as the colors were already very saturated due to underexposing the image for getting the silhouettes.
Quite a difference from the picture taken with my iPhone, isn't it? It shows that gear isn't accountable for the quality of your photography, but it can make a big difference in the way you work. But I suppose I can write a whole new series of posts about that topic…
The big difference here is first of all, that the Fujifilm doesn't offer a HDR function, and second of all, the difference in lens. If I would've brought my wide-angle lens on the Fujifilm, I would've captured more of the sky and the reflections in the water. But using the XF35 f1.4, the view is rather 'limited', which suits for this type of photo better . And it seems to have been a good choice too.
Top Stock pictures of February 2019
There's a lot of different types of stock photography, there is the super-commercial-typically set up lifestyle stock, with the even more typical "I'm so happy to sit here all by myself smiling while eating a boring salad" type of pictures, or on the other side of the spectrum, the editorial news type of stock, where you take photos of events, and they are used in editorial publications, such as newspapers etcetera. There's a big difference in shooting, and processing, but also in licensing and selling. But all that is too much for this post, so I'll write a different post on that 😉
As for this month's best selling stock photo, it's an editorial picture. It was taken in April 2017, when some of our friends were running a "Strong Man" race, and we went there to encourage them. But in between the encouraging, we managed to take some pretty nice action photos of the mud-covered Strong Man contestants. I've put them online for sale via some of the stock agencies we use (not all of them accept editorial photos), and there are a few of the series that are pretty solid sellers, but as always, the sales of pictures of this type is always a bit depending on the time of year. But I assume that's typical, as there are a lot less events like this during the Christmas period than in spring and summertime.
The pictures of this event were taken using the Canon EOS 5D MkII, and with the 70-200 f2.8 IS L lens mostly. No particular post processing was done on them.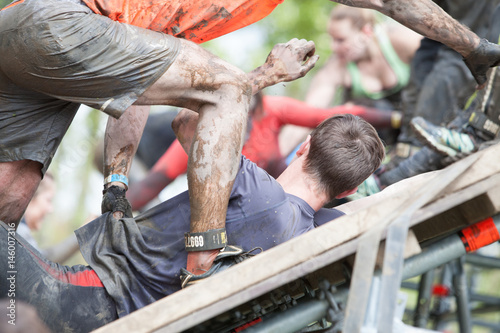 All pictures that you see here, are available for sale via stock agencies , or print via our Smugmug page. If you have special requests or considerations, feel free to contact me.
Are you considering to sell your photography work via stock agencies too? Use our referral links to subscribe, and support us that way! You can find them via the Stock Photography page.