As seen before, personalizing the looks of your iPhone can be quite a pain. Luckily, Winterboard comes into play! Winterboard is a great little app that lets you customize the springboard (the place where you can select and start your apps) of your iPhone.
Winterboard allows you to change your icons, customize applications, add or change graphics in the status bar and dock, install themes, and change the wallpaper of your iphone's springboard. It has quite some possibilities as you can see.
Winterboard works for 2.x+ iPhones and iPods, but needs you to jailbreak your iPhone/iPod to install Cydia.
Now, for this article, we're going to limit ourselves to changing the springboard background of your iPhone with Winterboard.
First, you need to open Cydia, and select the "Sections" tab on the bottom.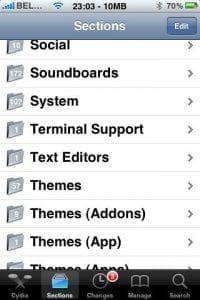 Here you will see the "System" menu, enter that, and locate Winterboard.
Select Winterboard, and in the next screen, choose "Install" on the top right, and confirm that. This will download and install Winterboard on your iPhone, but needs a reboot of your phone to finish the install.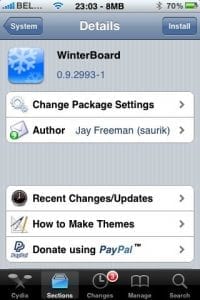 Once your iPhone has rebooted, you will see Winterboard happily sitting in your springboard next to the other apps.
Start up Winterboard to get an overview of all the available customizations.
Select "User Wallpaper" to select and change the wallpaper of the springboard to that of your choice. This will overwrite the current background or the theme background if you have any installed.
Select "Dim Wallpaper" if you want your background to dim a bit, so that your icons stand out more. Can be useful on very busy or colorful backgrounds.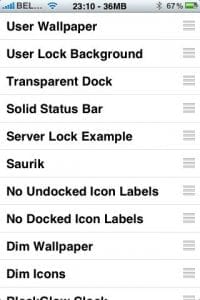 Select "User Lock Background" to select and change the wallpaper of the lock screen to that of your choice. This can also be done the way Apple intended it to: Changing your iPhone's background
Do you have Apple's iOS 4.1 installed in the meantime, and are you looking to jailbreak that on your iDevice? Then check out this article: Jailbreak your iOS 4.1 iDevice with greenpois0n [jailbreak tutorial]