Finding Moment
If you are somewhat familiar in the world of smartphone photography, you know Moment lenses. Moment currently is one of the major players with regards to smartphone lenses. They are not the cheapest, not by far, but their quality is top notch.

I came across Moment lenses after having used Ollo lenses for a few years, and loving them. Really, I adored my Olloclips, and took numerous photo's with them on my iPhone 6. Especially with the Macro lenses. The result were mostly pretty good, and the quality was high enough to get an "ok" acceptance rate and selling rate in most stock photography agencies.

But when my iPhone 6 got replaced by my then iPhone 8 Plus, I started looking around for something new, something with even better quality. Because Ollo's macro lenses were good, but the wide angle and the tele were not totally up to my standards. So I rarely used those.
After searching around the net for a few months (I tend to overthink stuff, I know), I came to the conclusion that Ollo was one of the better brands of smartphone lenses. And there weren't that much other players still on the market, as some stopped producing smartphone lenses after the iPhone 5s, because there were too many changes in models, which each time made them have to re-engineer their lenses. One other great player still on the market was Moment, an American company, from Seattle. The reviews I had read looked good. The quality and design of what they showed in their webshop, looked good. So I ordered me my first Moment lens. The Moment Macro lens. Of course. Together with a case for my iPhone 8 plus! Because Moment learned from all the dead designs, and from Ollo's 1-lens-fits-all design. Make 1 type of lens, and make it perfectly fitting for a smartphone case. Then create cases for the smartphones you want to support.
Anyways, to make a long story short, I received my Moment Macro lens, started playing around with it, was baffled by the build quality and the resulting photo quality, and have been a Moment adept ever since.
The New 14mm Moment Fisheye Lens
But I didn't have a wide angle lens for my iPhone (X in the meantime) yet, as I never really saw the need for it. The iPhone X (and most other smartphones) have a rather very wide angle lens on it already. And I don't like the fisheye effect. At all.
And then, just a while ago, I received an email from Moment. They were going to beat it, they said. Beat the angle of the new iPhone 11 pro's wide angle lens, 170° over 140° of most wider-angle smartphone lenses (or the iPhone 11 pro for that matter). And they claimed they could beat it in terms of sharpness too! And as an added plus, in the Moment Pro photo app, they would even remove the typical fisheye effect real time.
Nothing but wins. So why waste any more time? I ordered mine!
When I clicked the "Order" button, Moment warned me that it was already out of stock, but that it would be shipped on the 6th of December. Great! I could live with that. I was hoping to have it by Christmas, so that should work.
Imagine my surprise when the New 14mm Moment Fisheye lens wasn't shipped on the 6th of December, but already delivered on the 6th of December! Quickly, check out my order confirmation email to see if I misread. Nope… Ship the 6th. Now that's nice! That's overdelivering!
Opening up the package is a treat, as it always is with Moment gear. It's always nicely packed in the classy looking black carton boxes. And when opening them up, you can feel the care that has been put into the content, as well as in the package. And that sets a standard.
Putting it through the test
Of course, I was very eager to start using the lens, and put it through some torough tests! Unfortunately, the whole weekend was filled with dark, very wet and extremely bad stormy weather. I tried to sneak out between the showers, and grab a few quick shots of the canal in front of our house to get a first glimpse, and I was already impressed!
That's when I decided to write this post. And when this morning, on my commute to Brussels, I took some pictures of the Antwerp Central Railway Station, I was baffled. Stunned. By the reach and the performance of this little fisheye thingy!
Let me show you the pictures from the canal first. As a comparison, I've shot 4 pictures, 2 using Procamera HDR, 2 using the Moment Pro app, one with the Moment Fisheye lens, one without (so regular iPhone X wide angle lens).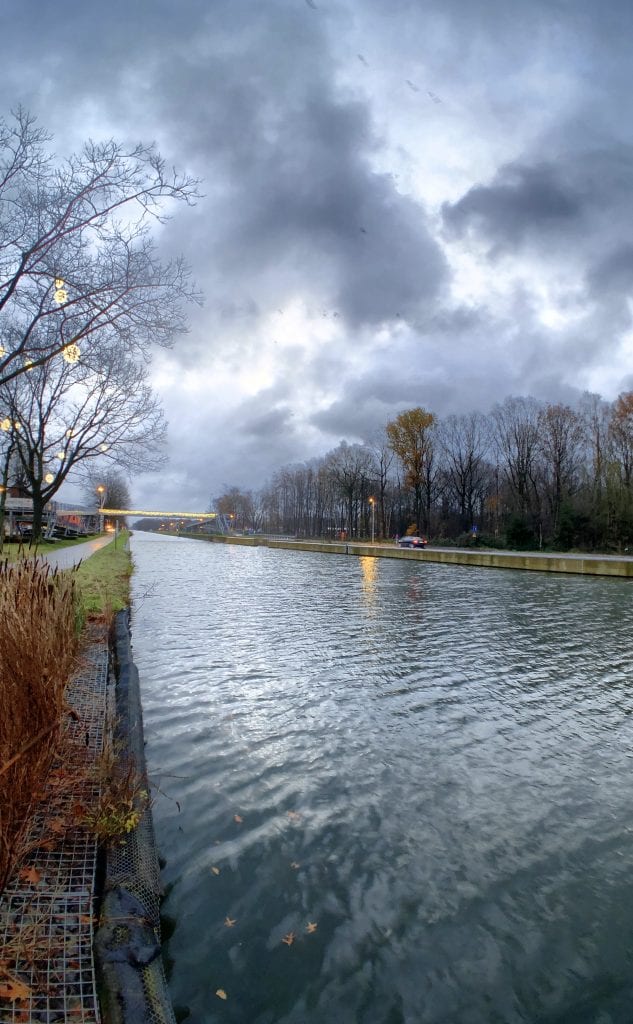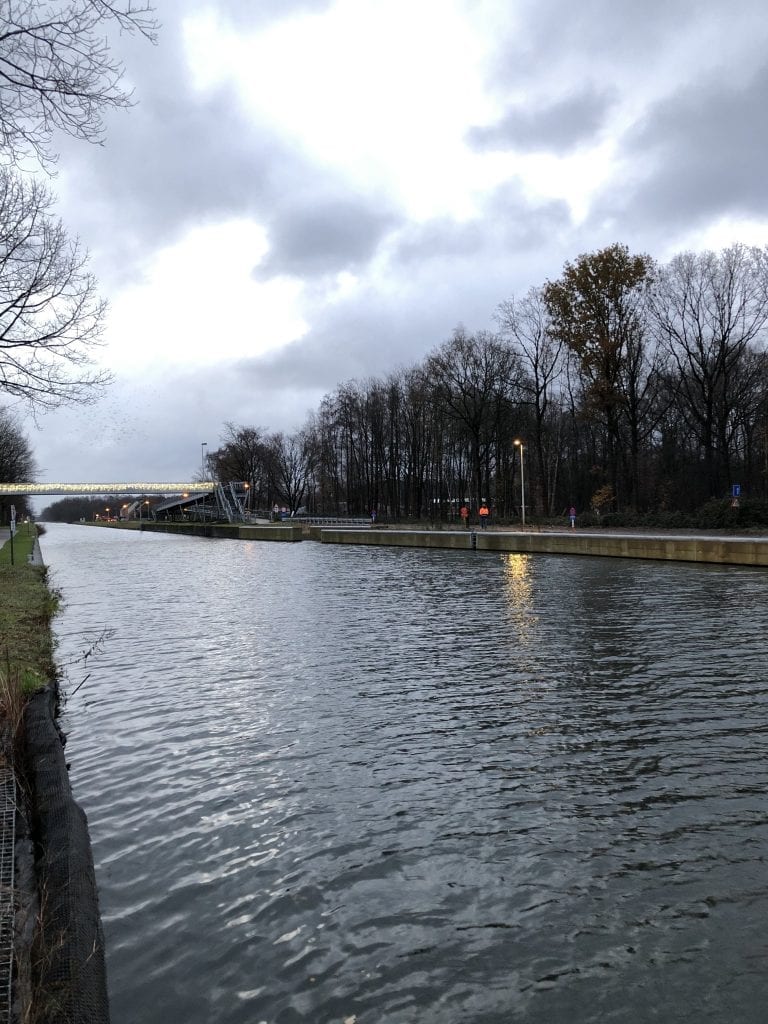 As you can see, the results render great. Both in the Moment Pro photo app as in Procamera HDR app. The angle the lens covers is pretty amazing too, with not too much distortion at first sight. It doesn't have the typical fisheye dark corners, just some curves towards the corners, but that's something every wide angle lens has, and can very well be used to the advantage of the photographer, or it can be kept as invisible as possible, by playing with your composition.
But upon reviewing the results, I was not stunned. Not amazed. The landscape was simply too dull at that moment, not really showing the possibilities of this little lens. So when I had to take to Brussels in Antwerp, I decided to take a quick walk to the front of the station, to see what it would bring there. I'll just let you see the results first. Be aware, this was taken at 6:15 in the morning, wintertime. Outside it was still dark. Pitch black.
At this time, I have about 14 minutes before my train arrives. I have to go from all the way down from the lowest platform, go up, take the pictures, and go down again. So these were really taken while walking, halt, walk again. Not much time was put into composition, lighting, nothing.
And still… I was baffled by the result. Not all of the pictures came out sharp, but the HDR, and the darkness will do that. As HDR takes multiple pictures and combines those. Moving inbetween lowers the sharpness. And, in order to over-expose some of the HDR shots, it needs a longer shuttertime, increasing the possibility of loss of sharpness again.
And still… look at the sharpness here, the detail, even in the edges. I was baffled, and still am. I've shot many wide angle photo's on my Canon gear with the Canon L 17-40 or the Sigma wide angle, which had less detail towards the edges.
Conclusion about the Moment Fisheye Lens (new 14mm)
Let's not write another 1000 words about what can be said in a few simple words. This is a must buy. I bought it thinking I could always resell it if I didn't like it. But this is not a lens I will easily sell. On the contrary, this is one of the Moment Lenses that I will nearly always carry with me. And you can too, you can buy it here -> Moment Fisheye 14mm Lens
As a disclaimer: I bought the Moment Fisheye lens (and all my other Moment lenses and gear) with my own money. This blogpost is not biased in that sense, or is not bought. The links I add here are afffiliate link though, where I get paid a small portion of the money you pay to Moment, allowing me to post even more and better posts 😉 I use affilliate links as I believe in the companies and tools I write about. Not the other way around.